Safeguarding Team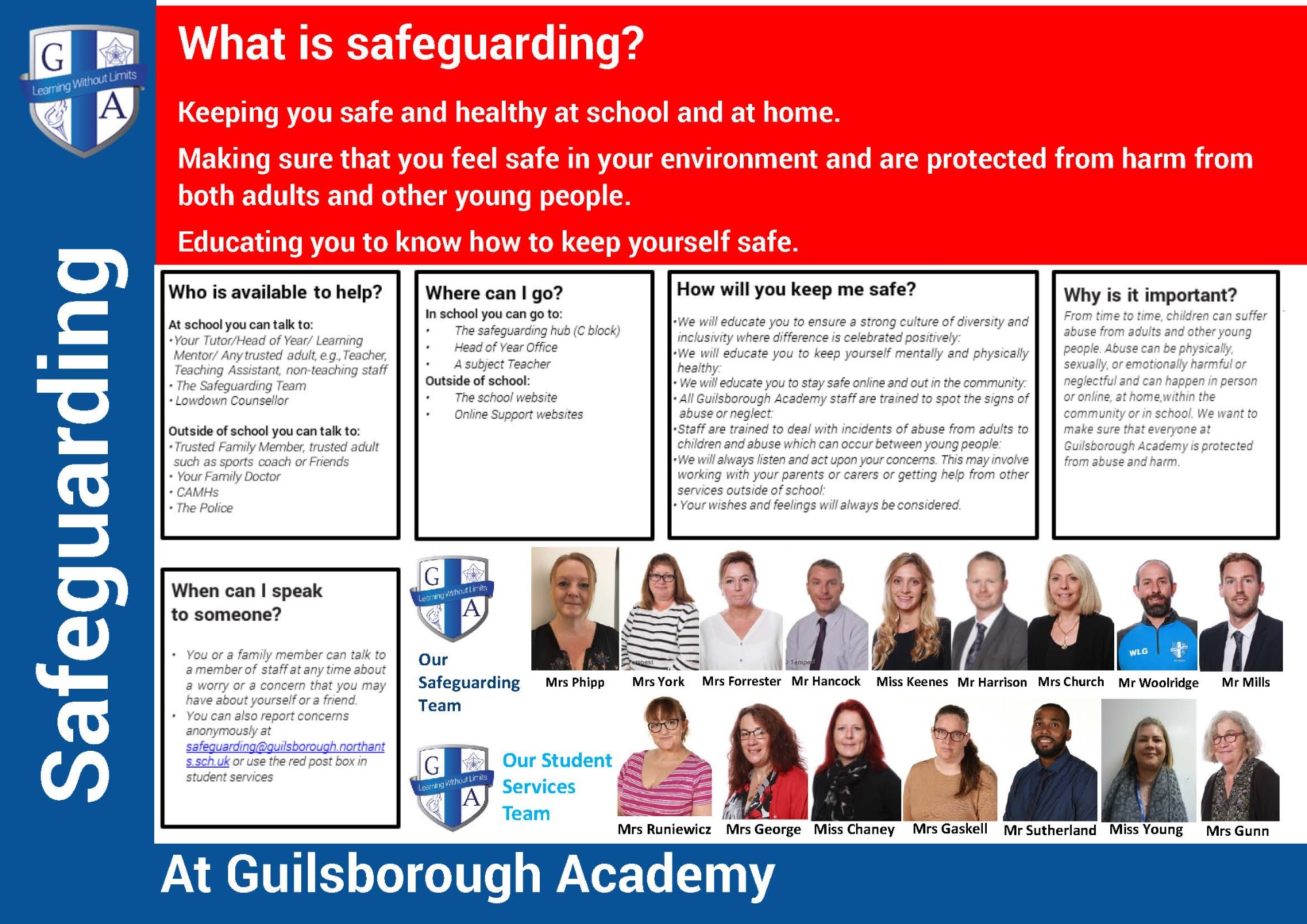 Reporting Student Safeguarding Concerns
If you have a safeguarding concern please report it immediately by contacting;
Mrs E Phipp Vice Principal (Designated Safeguarding Lead)
ephipp@guilsborough.northants.sch.uk
Miss G Keenes – Assistant Principal (Deputy Designated Safeguarding Lead)
keenes@guilsborough.northants.sch.uk
Mr C Hancock - Vice Principal (Deputy Designated Safeguarding Lead)
chancock@guilsborough.northants.sch.uk
Mrs N York – Safeguarding and Home School Liaison Officer (Deputy Designated Safeguarding Lead)
york@guilsborough.northants.sch.uk
Deputy Designated Safeguarding Leads
Mrs H Forrester forrester@guilsborough.northants.sch.uk
Mr M Harrison mharrison@guilsborough.northants.sch.uk
Mrs C Church cchurch@guilsborough.northants.sch.uk
Mr K Woolridge woolridge@guilsborough.northants.sch.uk
Mr D Mills mill@guilsborough.northants.sch.uk
We also have a number of specialist staff who work to support our students by providing excellent pastoral care. These include our year teams as well as the school counsellor.
Northamptonshire Safeguarding Children Partnership (link) has lots of information and advice for professionals and parents/carers.
Alternatively, there is a CONFIDENTIAL email account which students can use to stop themselves or someone they have seen from suffering. If they have been having problems at school, home or with their family or friends, or if they feel that they can help to keep our academy a safe, friendly and fun place to be, they can get in touch using this email ithinkyoushouldknow@guilsborough.northants.sch.uk.
Useful contact numbers/websites outside of school hours
MASH (Multi-Agency Safeguarding Hub)

0300 126 7000 MASH@northamptonshire.gov.uk

Childline

0800 1111

Police

Non-Emergency 101

Emergency 999

Helpline

07507 329600

Young Northants (Website with helpful advice about a range of issues affecting young people)