Why Work For Us
Guilsborough Academy prides itself on the continued professional development opportunities which are available to staff. We offer opportunities for teachers at all stages of their careers, from extensive programmes of support for our Early Career and Recently Qualified Teachers, to offering training opportunities for staff to progress within their own teaching or to progress to either middle or senior leadership.
Each year, a number of our staff complete National Professional Qualifications in either Middle or Senior Leadership. We also have a range of different staff who are Local Leaders of Education (LLEs) or Specialist Leaders of Education (SLEs).
Please see below what our current staff say about why Guilsborough is a great place to work and the opportunities they have.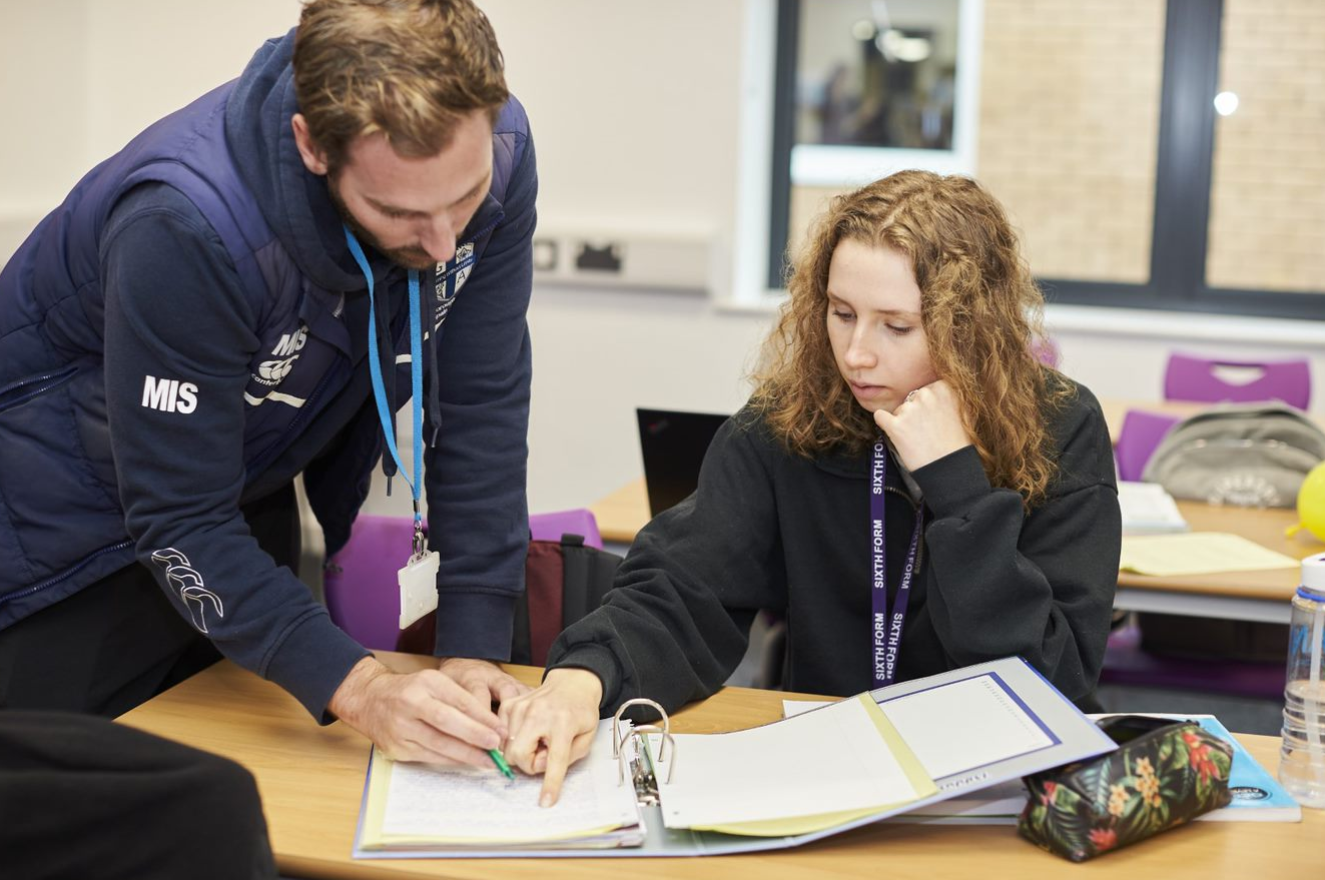 Specialist Leaders of Education (SLEs)
Specialist Leaders if Education (SLEs) are outstanding middle and senior leaders who have the skills to support individuals or teams in similar positions in other schools. SLEs understand what outstanding leadership practice in their area of expertise looks like and are skilled in helping other leaders to achieve it in their own context.
Mr A Rogers (SLE)
Mr Rogers has been at Guilsborough Academy for a number of years now and enjoyed many opportunities to develop professionally but also as a whole school leader. He has been teaching since 2001 and experienced a variety of challenges and successes. Having been a head of department and head of faculty Mr Rogers has seen the ever-developing challenges for the curriculum and how this impacts on students. His previous school focus was in the pastoral side school life from being a Head of Year for KS3 and Head of Sixth. Mr Rogers was also appointed Principal examiner and have invaluable knowledge and understanding of the deeper meaning of assessment objectives but also how this fits into every day AFL in the classroom. His core expertise is an SLE is History/NQT development which involves ensuring high quality schemes of work and assessment are tailored to enable rapid progress for all learners at every key stage. This includes extensive knowledge of the new A Levels and GCSE including what core content and skills are expected to mark accurately to the assessment objectives. Mr Rogers also has a background with ITT, assessment and leadership which means he can share a wealth of knowledge to challenge and support staff at all points in their careers.
Miss S Boyer (SLE)
Miss Boyer is the Head of Department for Physical Education at Guilsborough School and is an experienced GCSE PE practical moderator. She has extensive experience of leading large teams to drive improvements using a variety of teaching and learning strategies and is skilled in embedding new assessment and schemes of learning alongside rigorous data analysis and quality assurance. Miss Boyer has supported other schools to drive improvements through the completion of departmental and whole school reviews as well as supporting staff through personalised CPD programmes with students at the heart of the process. Miss Boyer has led a number of projects including Life Skills days (PSHE), student voice and oversight of pupil premium funding and intervention. She has implemented whole school staff coaching triangles and development of coach/facilitators as well as being an NQT and trainee teacher mentor.
Mrs A Pugh (SLE)
Mrs Pugh is the Director of the Grand Union Training Partnership which offers secondary PGCE with Masters Accreditation. She is experienced in setting up training courses and additional subjects, responding to and managing change within ITE, managing teams of leaders and School Based Tutors across a wide partnership of schools and co-ordinating quality assurance procedures. Additionally, Mrs Pugh is the subject lead for the MFL PGCE with extensive experience in planning and delivering subject training as well as observing trainees. Other areas of expertise include coaching and mentoring and assessment for learning.
National Professional Qualifications in Middle and Senior Leaderships
National Professional Qualifications (NPQs) are qualifications designed to support the professional development of teachers and leaders. These national qualifications are available for Middle Leadership (NPQML), Senior Leadership (NPQSL) and Headship (NPQH).
Mr K Woolridge
"One of the best outcomes from my experience of completing the NPQML was the opportunity to share ideas and good practice with colleagues from other schools across the SWAN network. It was good to stop and take time to think, review my own teaching and leadership and to be able to draw upon others experience. My project allowed me to focus on an area that I wanted to develop within my current role and this has allowed me to pass on further information and ideas to others at the academy."
Mr B Drouet
"I've been really grateful for having the opportunity to complete my NPQML at Guilsborough Academy. I've found that it has helped improve not just my leadership skills, but also my approach to analysing data and measuring the impact of my actions. I feel well equipped for my current role, and for other roles I may hold in the future."
Miss G Keenes
"The opportunity to undertake the National Professional Qualification for Senior Leadership has developed the breadth of my leadership skills by providing a platform to work holistically across the school. The NPQSL modules provide professional development on the strategic responsibilities of a Senior Leader such as devising developmental agendas, managing resources and increasing capability. The qualification encourages personal evaluation of your own leadership styles in order to identify additional ways to lead with impact."
Mr D Mills
"I found the face to face sessions extremely useful through opening dialogues with individuals in similar positions. There were many topics open to debate and it was interesting to gain different department area's viewpoint. Finding out the kind of leader I am in comparison to others was also enlightening."
Early Career & Recently Qualified Teachers and Past Guilsborough Students
Each year we offer an extensive support programme for our ECT's and RQT's. We also have a number of staff who are past Guilsborough students, which is a testament to the experiences they had from their time as students. Many of our staff progress from ECTs, as you will read below, to positions of middle or senior leadership, and each year we offer a number of secondments to help develop our staff's skills.
Mr M Jackson (Head of Drama - Past student and RQT)
"Guilsborough Academy has always been a very special place for me. I first started as a student at the age of 11 and this was where my desire and passion for teaching emerged. I was taught by a range of inspirational teachers that supported me throughout my academic journey at the school. After completing my NQT year, I was lucky enough to be offered the role of Drama and English teacher at the academy. I had always wanted to return in order to give back to a school that had given me so many opportunities. Ever since a young age, I had always dreamt of becoming the Head of Drama in order to lead in the support and nurture of student's theatrical skills, providing a foundation for their next steps. The academy supported me greatly prior to this role by giving me opportunities to lead on various projects which allowed me to develop my leadership skills. In May of 2020, I was incredibly lucky to be offered this job title at the academy. Since this, I have been supported in a range of ways in order to become an effective leader for the performing arts. As well as support from the staff, I have also been able to participate in the NPQML- a middle leaders programme that has allowed me to develop and discuss leadership strategies with a range of teachers from various schools within the SWAN alliance. Guilsborough Academy continues to offer me such a great range of support and I feel confident that I am constantly growing as a leader for my subject area."
Miss A Boland (English Teacher - Past Student, NQT and RQT)
"I currently work as an RQT English teacher here at Guilsborough Academy, however my journey at Guilsborough started as a student. I left Guilsborough Academy in 2014 and moved to Nottingham to study English Literature at the university. After graduating in 2017 I moved back to Northamptonshire and began looking for jobs. In the summer of 2017, I received a letter from Guilsborough Academy advertising a 'Curriculum Support Role' that was available in the English department. I was thrilled to have been approached by the school and still feel to this day that this approach was very unique. I liked how Guilsborough reached out to alumni; I felt very fortunate that they were giving graduates job opportunities. Fortunately for me I was recruited by Guilsborough Academy and joined the English Department as a Curriculum Support member of staff in September 2017. I worked as Curriculum Support for a few months which I thoroughly enjoyed but then I was given another great opportunity where I was asked to work as an unqualified teacher. After working as an unqualified teacher for the rest of the year; I knew that I wanted to start my teacher training and felt confident that working in Education was right for me. I researched lots of different teacher training programmes but found that The Grand Union Training Partnership offered a more 'hands on' approach to training. This was especially important to me as I already had some experience teaching. I trained with the GUTP for the year and worked in two different schools. One of the schools being Guilsborough Academy. The teacher training course was intense and challenging but with all the support I was given I felt confident in my ability throughout. I would highly recommend the training course.
I then joined Guilsborough Academy working full time as an English teacher after my teacher training year. As an NQT I had a mentor who I met with every week. These support sessions were invaluable and really helped boost my confidence as a teacher. I was able to discuss any issues I had with a trusted colleague and was lucky enough to be surrounded by such an inspiring department. As an NQT I was required to attend 'NQT sessions' where senior teachers of the school would run sessions on behaviour management or sessions revolving the curriculum. These sessions gave NQT's the opportunity to ask questions and share experiences. Now working as an RQT, I have a full teacher's timetable, have a form of my own and have three Year 11 classes. It has been a step up since my NQT year and at times I have been really tested. However, I am fortunate to still have support from a mentor, a line manager and the department."