Textiles
Studying Textiles will allow you to explore the nature and purpose of all textile processes and discover how ideas develop from initial ideas to finished products. You will work on themes that explore texture, colour, pattern, line and form, through experimentation with materials and textile techniques. The principles of Art and Design are the foundation on which we build your knowledge and develop your creativity.
Our Curriculum
Students can come from either a Textiles or Art GCSE background. They will explore a range of textile media, processes and techniques which draw on traditional and contemporary techniques.
Students explore the use of drawing for different purposes, using a variety of methods and media on a variety of scales. They explore the potential for the use of colour. They use sketchbooks to record the work that they have done, building a reference guide for their future projects.
Students explore images, artefacts and resources relating to a range of art, craft and design, from the past and from recent times. They learn to analyse work from Textile and non- textile artists.
In the first two terms our work focusses on:
awareness of the elements of textile design, such as shape, line, scale, colour, texture, pattern, contrast and/or repetition
understanding of a variety of textile methods, such as: fabric printing, mono-printing, relief printing, screen printing and laser printing; tie-dye and batik; spraying and transfer; fabric construction; stitching, appliqué, patchwork, padding, quilting and embroidery.
Our aim is to not only broaden the range of techniques that the students can do but to create an opportunity for them to develop their own creativity.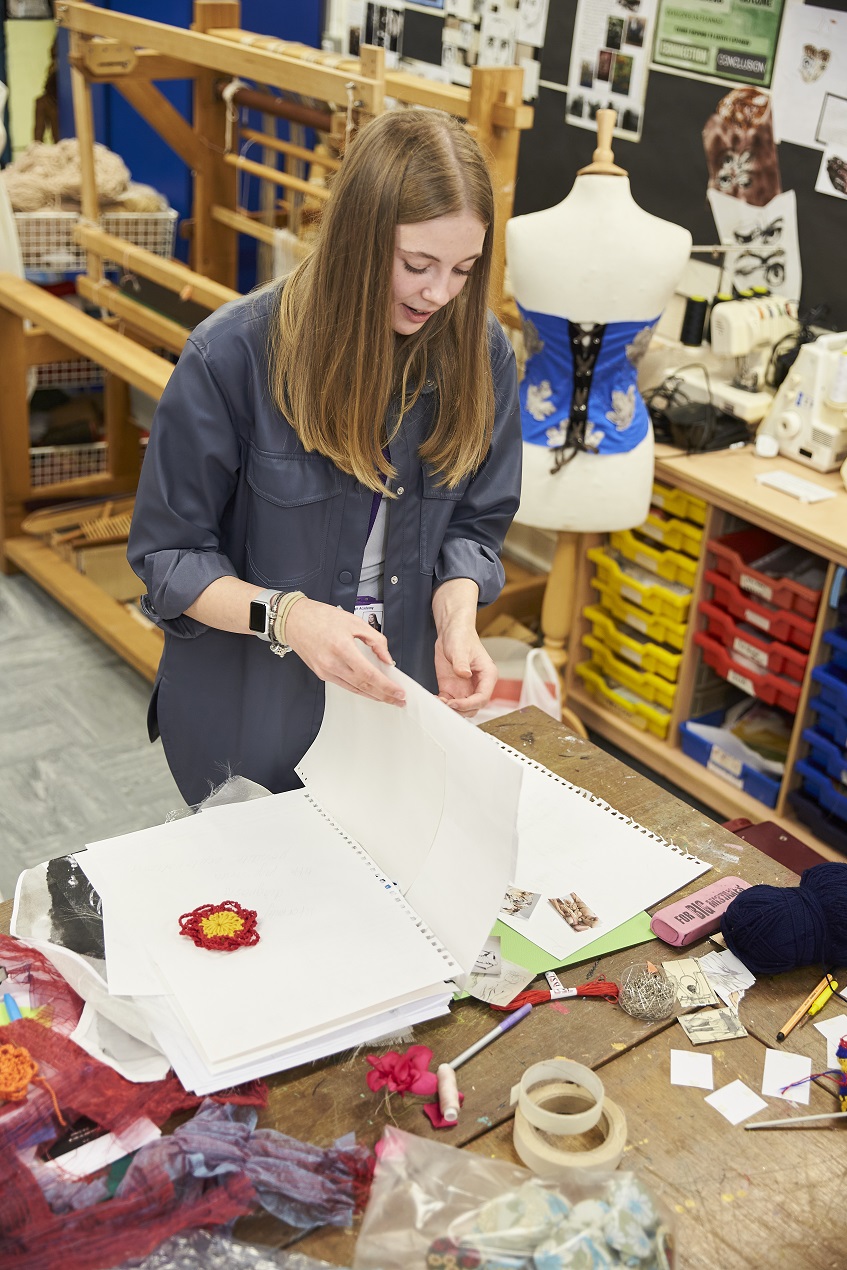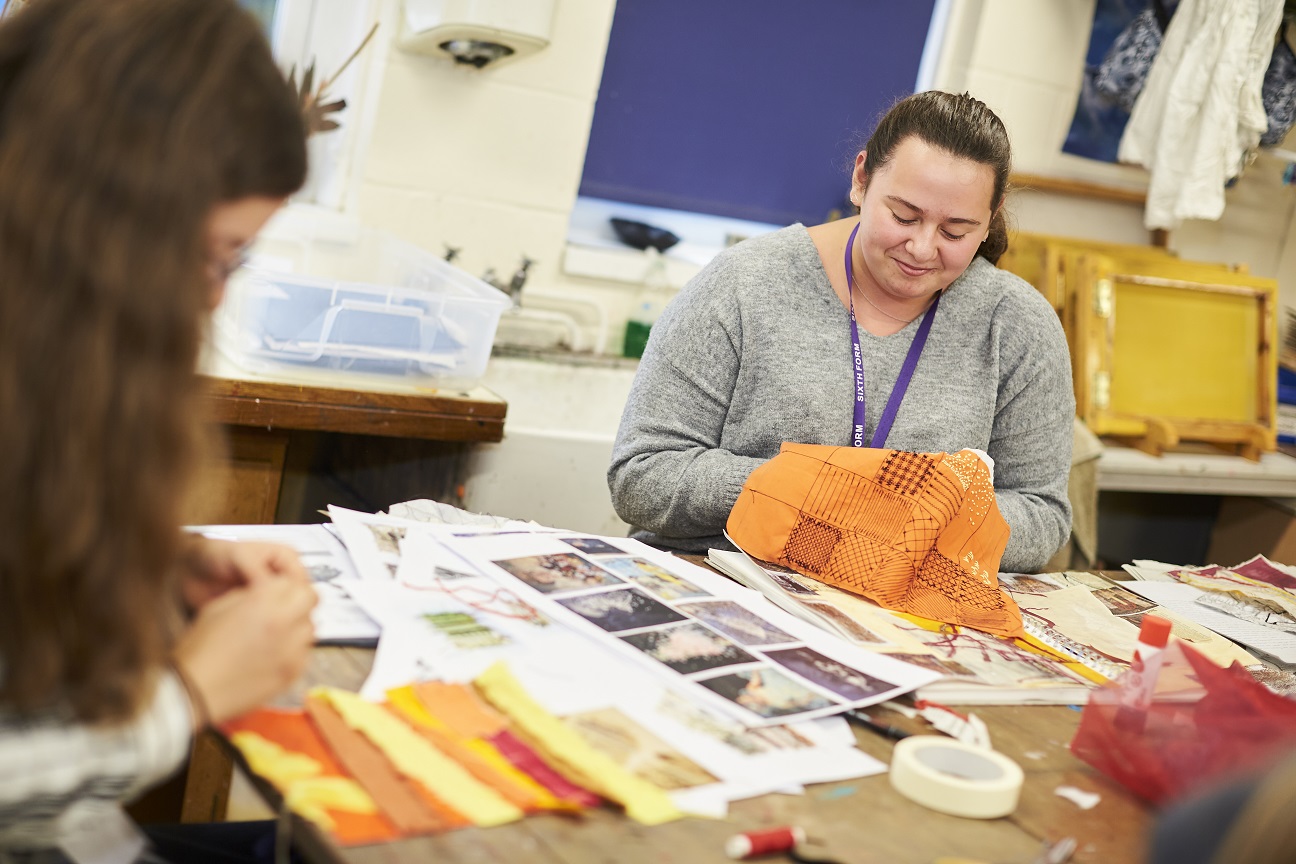 Content
Portfolio Project 1
Explore the principles of Line, Light and Tone, Pattern, Colour, Texture, Shape and Form. Looking at established and new Fashion, Textile and Visual artists , learning lots of new creative practical techniques – Freehand embroidery, Screen and Lino printing, Mola, Sublimation printing, fabric manipulation, knitting, weaving and melting. Your work will centre around the theme of Tribal Textiles which you will use as a creative source in which to explore and expand your textile repertoire.
Project 2.
Students use primary and secondary research as well as the work of established artists to explore their Design Brief. Through design and experimentation they produce a final product outcome. This element should demonstrate a student's ability to sustain work from an initial starting point to a realisation.
Personal Investigation:
Students are required to conduct a practical investigation, into an idea, issue, concept or theme, supported by written material. The focus of the investigation must be identified independently by the student and must lead to a finished outcome or a series of related finished outcomes. The investigation must show clear development from initial intentions to the final outcome or outcomes.
Externally set Assignment:
Students will be given a choice of questions which will form a starting point from which they will research, and investigate. They are asked to design, investigate and explore ideas, linking their work to those that they find inspirational. They are expected to make a final outcome in a three day 15 hour practical exam.
Exam Board and Specification
Exam board: AQA
Exam specification: A Level Art and Design: Textile Design
Entry Requirements
Please see the entry requirements document here
Is This Course Right For Me?
The foundations of this course are in Creative Textiles. It is a combination of Textiles and Art. It is not necessary to have a GCSE in art to take the course a passion for investigating different types of textile techniques will be sufficient. It is not a course where you make one garment like GCSE textiles – we will be exploring the work of existing textile artists and designers and using them as an influence for our work.
You will be exposed to lots of new techniques and artists, looking at printed textiles, fabric and garment design and construction.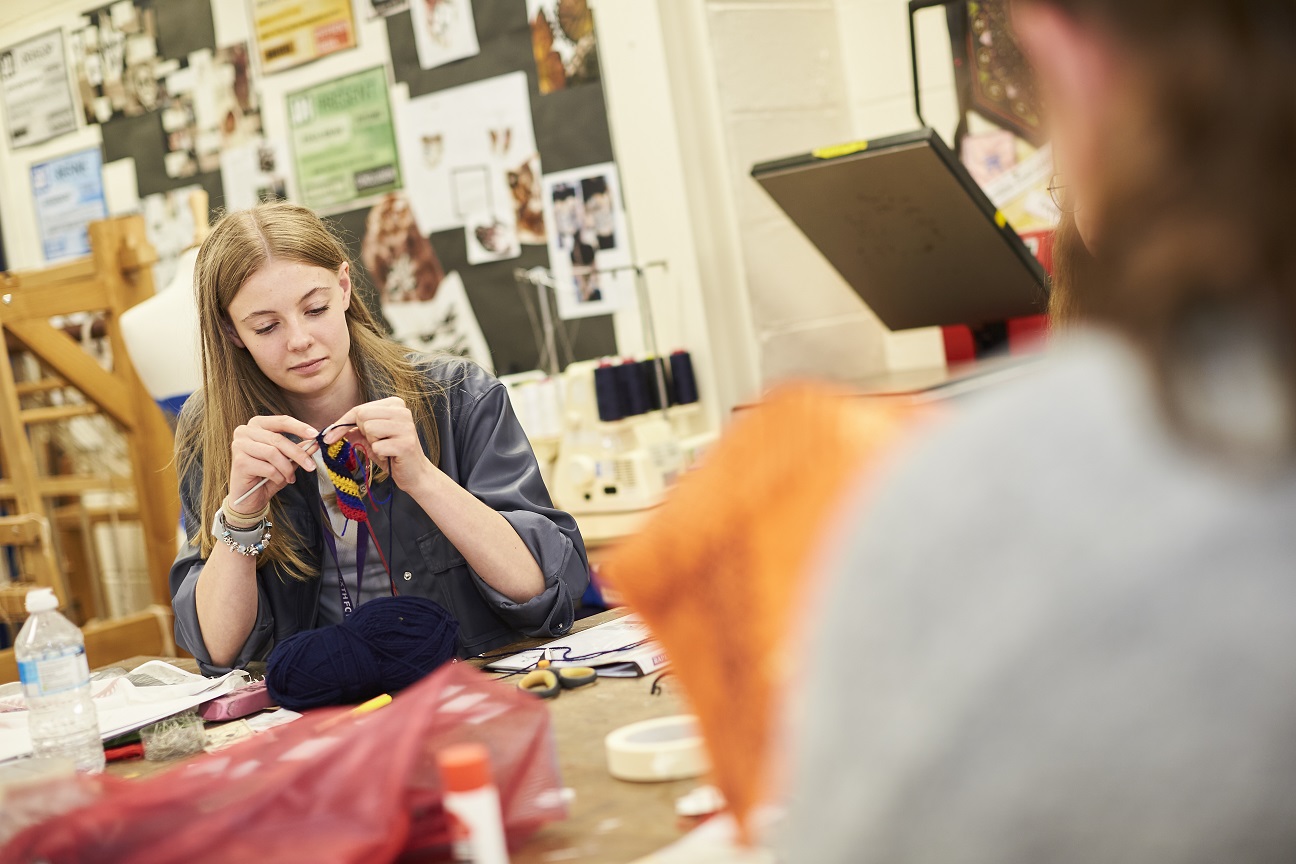 Please watch our short video to see what studying Textiles at Guilsborough Sixth Form is like.
Textiles is a supportive atmosphere where you are free to explore your creativity and encouraged to improve your skills no matter your artistic ability, I came away with so much inspiration and so many projects I was proud of as well as so many lovely memories of the lessons.
Maddy Year 13 student
Textiles opened up a world of creativity that I did not know I had in me. It connected me to the world of Interior design and I absolutely love it
Maddie - Alumni
I work in Costume Design now – Textiles A level gave me the confidence to experiment and not be afraid to do something different. It taught me to work to deadlines and allowed me to be individual.
Paige - Alumni
Where will A Level Textiles take me past Sixth Form?
CAREERS
Art and Design Textiles is a good starting point for any students interested in Fashion Design, buying or merchandising. Costume Design, Interior Design or Contour Fashion. Many of our students go on to an Art Foundation course. However because of the portfolio content of this course we have found that students have been able to enter degree courses directly when they show a wide range of experience and a passion already developing for that field. We do have some students who join us only for Y12 when they have already decided to follow an academic subject in Further Education, however want to continue a creative subject for a final year.
With the increase in opportunities in apprenticeships – we have had students who have recently followed this pathway into interior design and fashion merchandising.
Please visit out Careers Guidance page for more information
UNIVERSITY
Some examples of universities and their entry requirements to study Textiles and other related degrees are;
Nottingham Trent University BA Fashion Textiles requires Portfolio of work, 280 UCAS points.
DeMontfort University BA Contour Fashion requires A good portfolio and normally Art and Design Foundation or 280 points from at least 2 A levels and including grade C in Art and Design or BTEC Extended Diploma DMM or International Baccalaureate: 28+ Points Five GCSEs grades A* - C including English Language or Literature at grade C or above.
London College of Fashion BA (Hons) Fashion Buying and Merchandising requires A level passes at grade C or above to total at least 220 UCAS tariff points PLUS passes in six GCSE subjects at grade C or above, with a grade B for Maths.