SUPPORT FOR YOUNG PEOPLE & PARENTS DURING THE SUMMER HOLIDAYS

The Lowdown
The Lowdown offers free and Confidential Counselling, Wellbeing Support, LGBTQ+ Support, Practical Support and Sexual Health Services for 11–25-year-olds and their families.
Address: 3 Kingswell Street, Northampton NN1 1PP
Telephone: 01604 634385
Email: info@thelowdownnorthampton.co.uk
Website: www.thelowdown.info
The Lowdown's Espresso Yourself Cafe
The Espresso Yourself Café is for young people aged 11-18 years and their parents/carers every Monday and Friday evening between 4pm and 8pm at the Lowdown's Kingswell Street building in Northampton. If you are unable to drop in, you can also gain support remotely by video or phone call. All drop-in sessions have professional mental health workers present who can offer a safe space to talk and be listened to. There will also be group activities & peer support.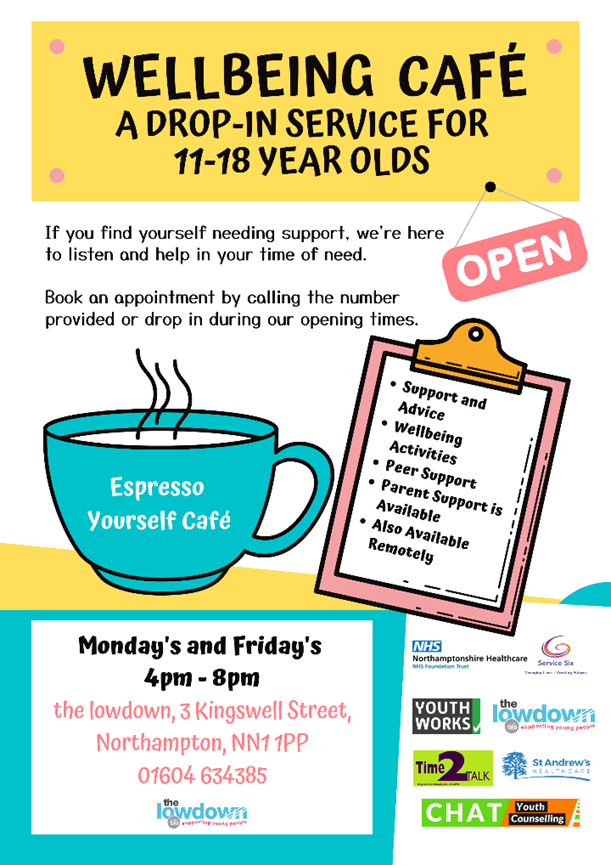 The Lowdown's Young Adult Social
If you are aged between 16-25 the Lowdown's social group is here for you every Thursday between 7 and 8pm. The group aims to help you meet young people on a similar journey, so you can support one another whilst enjoying fun activities and gaining support from trained workers if needed. Support is offered face-to-face at the Lowdown's Kingswell Street building in Northampton Town Centre. Drop in or call 01604 634385 for more information.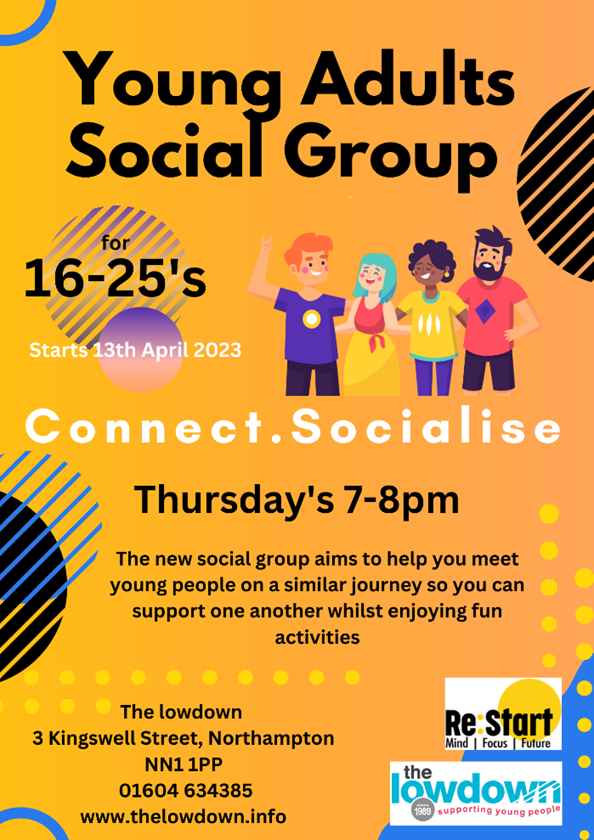 The Lowdown Parent/Carer Support Facebook Group
Search: 'Lowdown's Parent/Carer Support Group' on Facebook for support, information, and to share experiences and gain coping strategies.
The Lowdown Counselling:
The Lowdown offer a free and confidential service for anyone aged between 11-25 and living within the NN1-NN7 postcode area. Young people can self-refer, or someone can make a referral for them. Referrals can be made via the website.
Website: www.thelowdown.info/counselling-referrals
Countywide Support from The REACH Partnership:
Counselling Support is available countywide from 5 different agencies (including the Lowdown) dependent on postcode area:
Time2Talk – Daventry/South Northants www.time2talk.org.uk
Service Six – Wellingborough www.servicesix.co.uk
Youth Works – Kettering and Corby www.youthworksnorthamptonshire.org.uk
CHAT Youth Counselling – Oundle www.chatyouthcounselling.org.uk
NGAGE
Offer one to one support for young people with drug and/or alcohol use. Parents/carers and young people can make referrals directly. See links below:-
Website: www.aquarius.org.uk
YouTube: @Ngagewithaquarius9411
Facebook: @Ngagewithaquarius
Instagram: @Ngage_withaquarius
Check out resources for 12 Days of Aquarius Tips online.
Fearless
Fearless is the dedicated youth service of the independent charity Crimestoppers. They give young people the power to report crime 100% anonymously. You can give information to them using their online form or by calling their freephone number, 0800 555 111. They cannot track your IP address or your phone number and have no way of knowing who has contacted them.
Fearless are not the police - they are a charity. You will not be contacted by the police after passing information on to Fearless as the police have no way of knowing who the information has come from. The website also contains a wealth of information for both young people and parents on subjects they may have concerns about.
Website: www.crimestoppers-uk.org/fearless
YOUTH CLUBS
Youth Inspired Northampton
Follow them on Facebook to see what activities they have on offer @YouthInspired.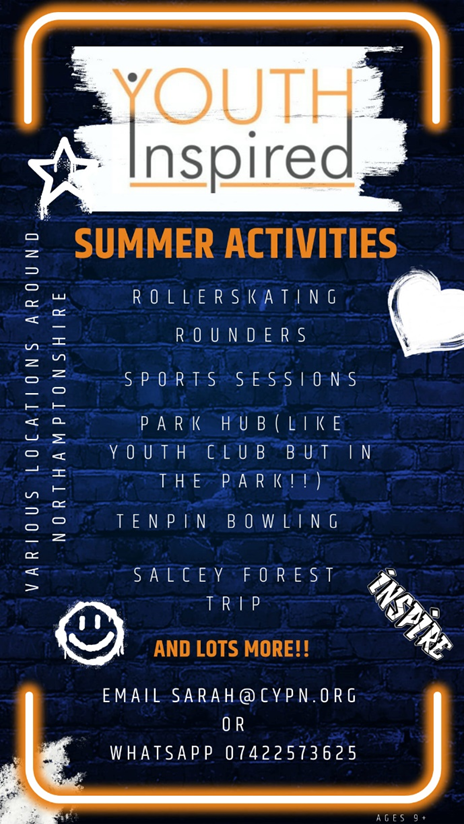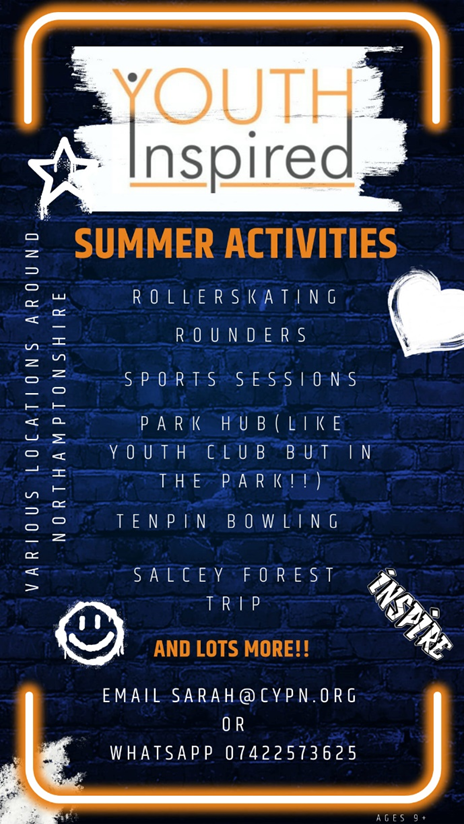 Broadmead Youth Club
Takes place at Broadmead Community Church, Broadmead Avenue, every Thursday evening between 7pm and 8.15pm. Check out their website and calendar of events.
Address: Broadmead Church, Broadmead Avenue, NN3 2QY
Website: www.broadmead.org.uk/
Free2Talk
Free2Talk offer free weekly youth clubs across Northampton as well as online youth mentoring support. Professionals, parents and young people can get in touch directly via the website for further information, current activities, referral forms and direct contacts.
Website: www.free2talkcic.org
Basketball event
Free2Talk are also holding an event for young people at Bellinge Community Centre tomorrow (Saturday 15 July) from 2pm to 4pm, come and meet professional basketball play Andre Arisol, see Free2Talks youth bus and other activities and information.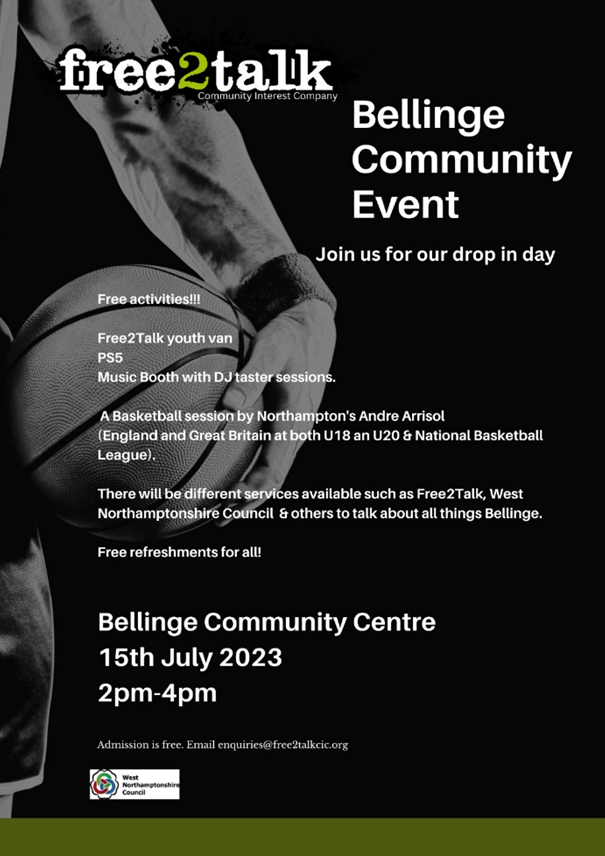 Kingsthorpe Jets
Interested in joining the Jets football club? Register your interest on the Kingsthorpe Jets website.
Website: www.kjyfc.org.uk
Northampton Scouts
Beavers, Cubs and Scouts – check out the website for activities and how to join.
Website: www.northamptonscouts.org.uk/
Northamptonshire Girl Guides
Find your nearest Unit from Rainbows upwards on the Northants Girlguiding website.
Website: www.girlguidingnorthamptonshire.org.uk/
Kidz Club, St David's
Takes place at St David's church hall every Wednesday from 6.30pm (term time only) – the last session before the summer break is Wednesday, 19 July, and will restart on Wednesday, 13 September.
Address: St. David's Church Hall, Eastern Avenue South, NN2 7QB
Northampton Leisure Trust