Results and Achievements
Each year we celebrate the wonderful achievements of our students at A level and GCSE. Due to the Coronavirus pandemic, the last published performance measures for schools was in the 2018-2019 academic year. Below you will find our results from 2019 alongside information celebrating the successes of our students in the 2020-2021 academic year.
2019 Results and Achievements
A-Level Results
Staff, students and parents/carers at Guilsborough Academy celebrated good A-level results in 2019.
43% of grades awarded were A*/B
Pass rate 96%
These results meant many of our students secured places at their first choice university as well as meaningful gap years and apprenticeship opportunities.
63% Higher Education (48% of which achieved their first choice, 11% insurance choice and 4% were through clearing places). 37% of University places are Russell Group Universities.
4% gap year and deferred their place at university to 2019
20% gap year with employment – apply to Higher Education next academic year/apprenticeship whilst applying.
Apprenticeships and employment:
1% Gap year employment while applying for apprenticeships on a more permanent basis
7% Securing Apprenticeship
1% Employment
Other seeking employment/apprenticeships or considering alternatives: 4%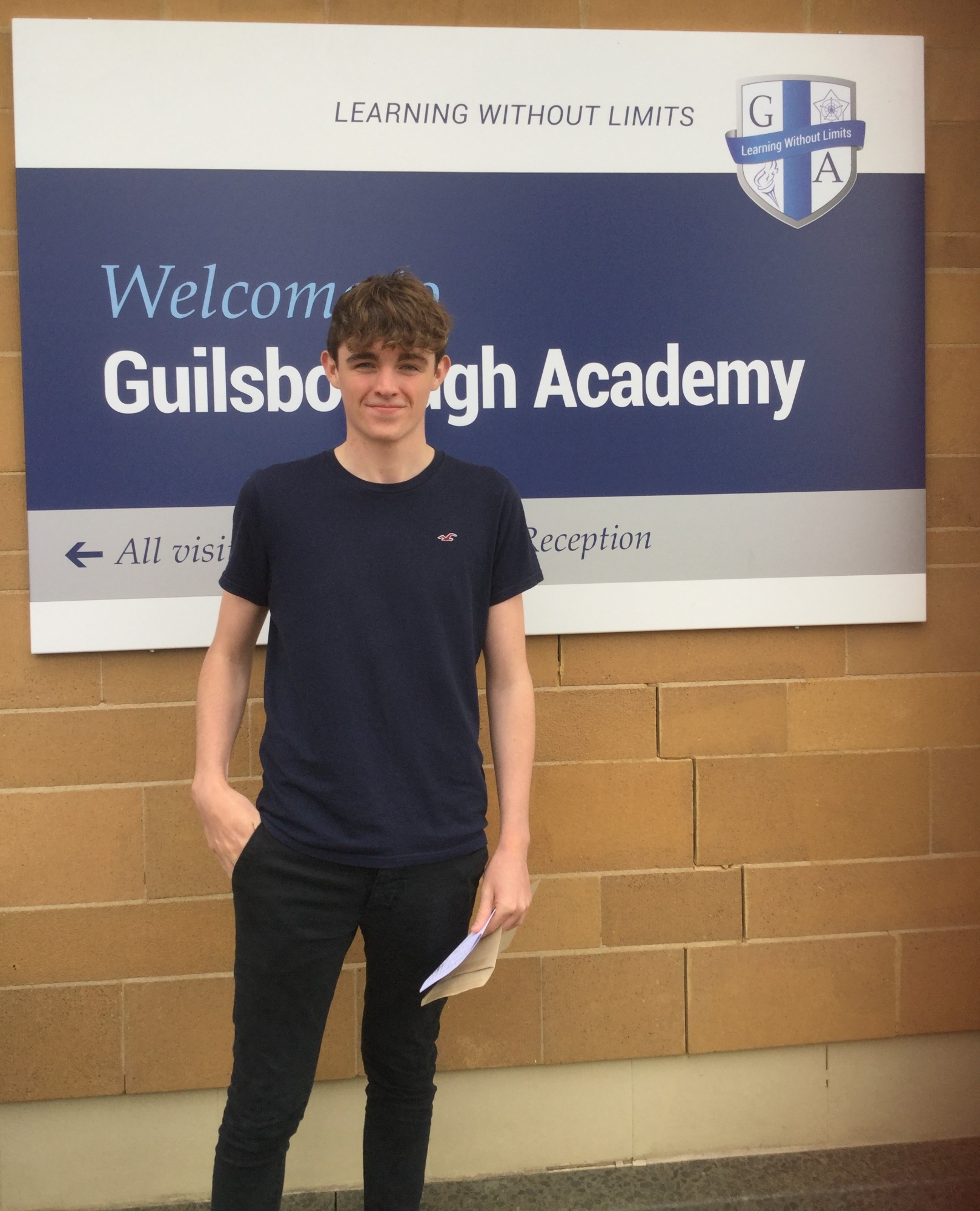 Congratulations to all of our Sixth Form students in achieving great A level results. Over the last two years you have worked extremely hard and fully deserve your successes. Whilst we are proud of all our students a particular mention goes to our highest achieving students; James Cowie, Robert Dowse, Lucy Fergusson, Kiki Godfrey-Flower, Lucy Greenwood, Hetta Johnson, Charlotte Jones, Georgia Lett and Lewis Tetley.. Furthermore, Kallum Davies, Abi Phelps, Hannah Jordan, Oliver Brady, Charlotte Hardwick, Alexander Sharman, Archie Vann, Sorrel Elliott-Smith, Felix Wright and Corey Parker must be mentioned as they achieved exceptionally high levels of progress. Many of you have secured some high-quality courses, employment and apprenticeship opportunities at post 18 and we wish you every success for the future. Thank you to staff, parents/carers for your continued support over the years. You all should be very proud.
Mrs Brindley Edwards, Head of Sixth Form 2018-2019
"Our students have worked hard during their time in our 6th form and fully deserve these fantastic results. Congratulations goes to all our students, whether they are moving onto university, apprenticeships or taking a year out."
Mrs Swales, Executive Principal
GCSE Results
We also celebrated yet another strong set of GCSE results in 2019, exceeding national examination benchmark figures.
86.9% of our students secured at least a grade 4 in Mathematics (compared to 69.5% nationally)
88.3% of our students secured at least a grade 4 in English (compared to 75.4% nationally)
82.9% achieving a grade 4 or above in English and maths at the end of key stage 4
36.5% achieving the English Baccalaureate
Results
Progress 8 score: 0.08
Attainment 8 score: 51.8
Percentage of pupils who have achieved a strong pass in English and mathematics. (A 'strong pass' refers to a grade 5 or above): 61.7%
Percentage of pupils entering for the English Baccalaureate: 59.5%
Percentage of pupils achieving the English Baccalaureate: (5+ 24%)
Ebacc average point score: 4.75
Percentage of pupils staying in education or employment after KS4 (destinations): 96%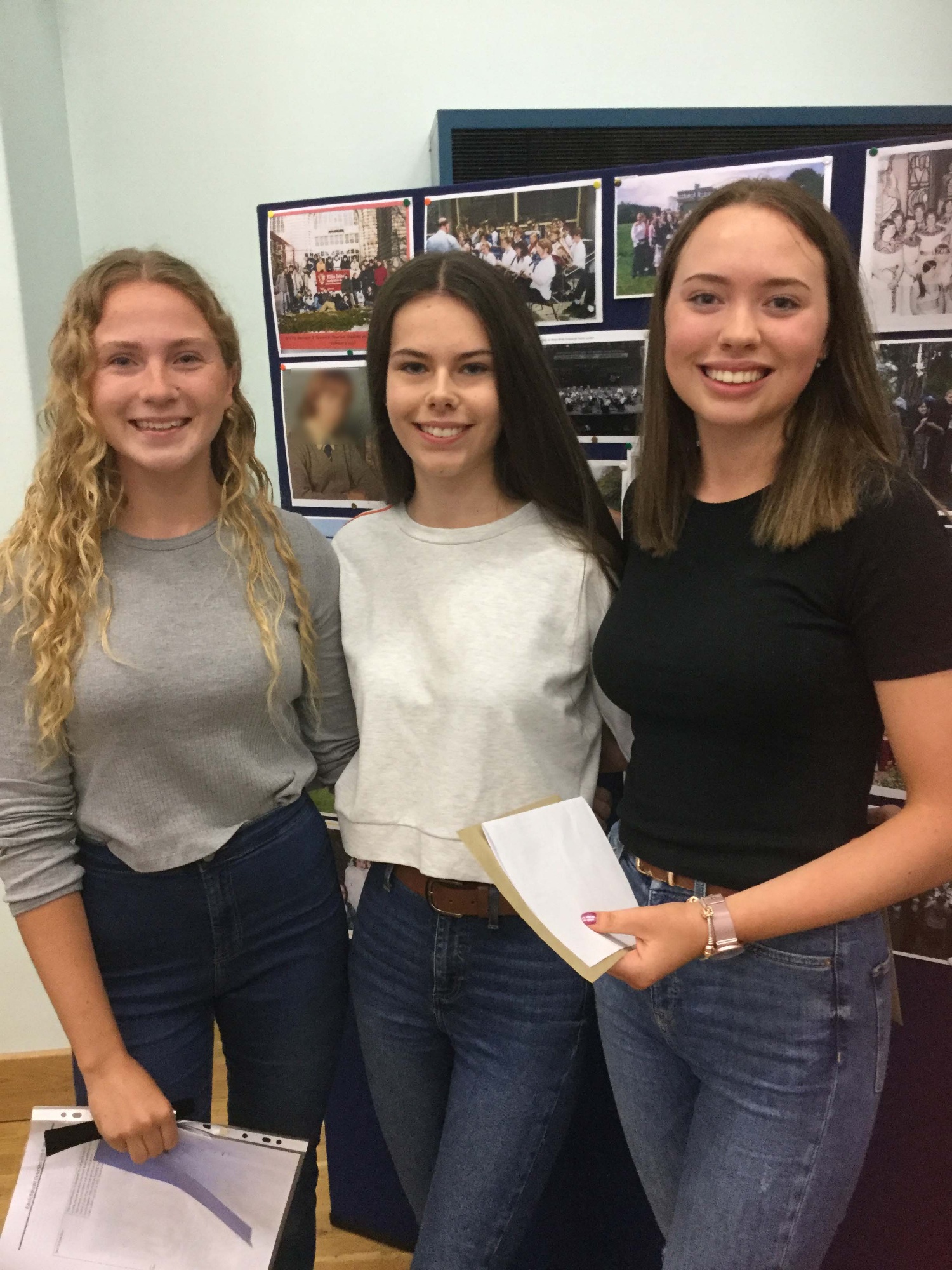 The following students were the highest achieving: Rachel Baker, Luke Munro, Emily Hallsworth, Daisy Kay, George Eveleigh, Tony Deare, Anna Ryan Rochelle, Alexander Lett, Matilda Morley, Daisy Miller, Lucy Doran and Isaac Vann.
However, a special mention also goes to Lucy Elford, Abigail Stone, Luke Ainsworth, Louise Copson, Sophie O'Brien, Euan Smith, Sophie Copson, Lucy-Jane Kirby, Harriett Berridge, and Honor Corr for making the most progress, since joining Guilsborough Academy.
"We are so pleased that all the hard work by our students and staff, supported by parents, has reaped the high rewards they deserve. These results, as well as their wonderful personal skills, will allow them to continue to do new and exciting things."
Mrs Swales, Executive Principal
"I should like to offer my congratulations to all year 11 for an outstanding set of GCSE results that pushed the bar even higher than last year's excellent results. You worked hard and made full use of the expert support offered by your teachers, tutors and not your least parents. We are really proud of you and wish you every success in all your future endeavours. On a personal note it has been a privilege and pleasure to have been part of your journey and I would like to thank you for giving me the opportunity to hand over the head of year baton on such a positive outcome.
Mr Vandersteen, Head of Year 11 2018-2019
2020-2021 Celebration of Achievements
A-Level Results
Guilsborough Academy students celebrate after a challenging two years
79 per cent of Guilsborough Academy students have secured their first-choice destination, with 11 per cent going to a Russell Group University. A number of students have also secured apprenticeships with prestigious companies including Cosworth Engineering and Motorola. Sam Bullock has secured a highly competitive internship with IBM.
Among the many high performing students, Daisy Miller achieved AAA and has been accepted to study Sport and Exercise Science at Loughborough University. Luke Munro achieved 4 grade As. Isaac Vann has secured a place at St Andrews to study Mathematics. Rachel Baker achieved A*A*A and is planning to take a gap year.
"While the word 'unprecedented' may have become part our common language over the past 18 months, it has been a time which none of us will forget. I am immensely proud of the work our students and staff have completed and the achievements of our students deserve to be celebrated. Examination results days always result in mixed emotions for staff and students alike. This year in some ways more than ever. The cohort of students collecting their results today have faced an unprecedented level of challenge. As a body of staff we could not be more proud of the way our students have faced adversity, demonstrated an incredible level of resilience and achieved fantastic results in spite of it all. Building a community predicated on mutual respect has been more pertinent than ever during this challenging year. Our Year 13 students will leave a lasting impression for future Sixth Form students, demonstrating what is possible when staff and students work together towards a common goal."
Mr Frazer, Principal
GCSE Results
Success and celebration for 'unforgettable' cohort of Guilsborough students
Students at Guilsborough Academy are celebrating after their "amazing" resilience helped them secure an impressive set of GCSE results. Over 80 per cent of students gained a pass in English and Maths while almost one in four attained a grade 7 or higher. Results in Science continue to be extremely strong, a subject in which Guilsborough Academy is traditionally within the top 10 per cent of outcomes nationally.
An increased number of students have applied to stay on to complete their Sixth Form studies at Guilsborough - testament to the trusting, cohesive relationships formed between staff and students.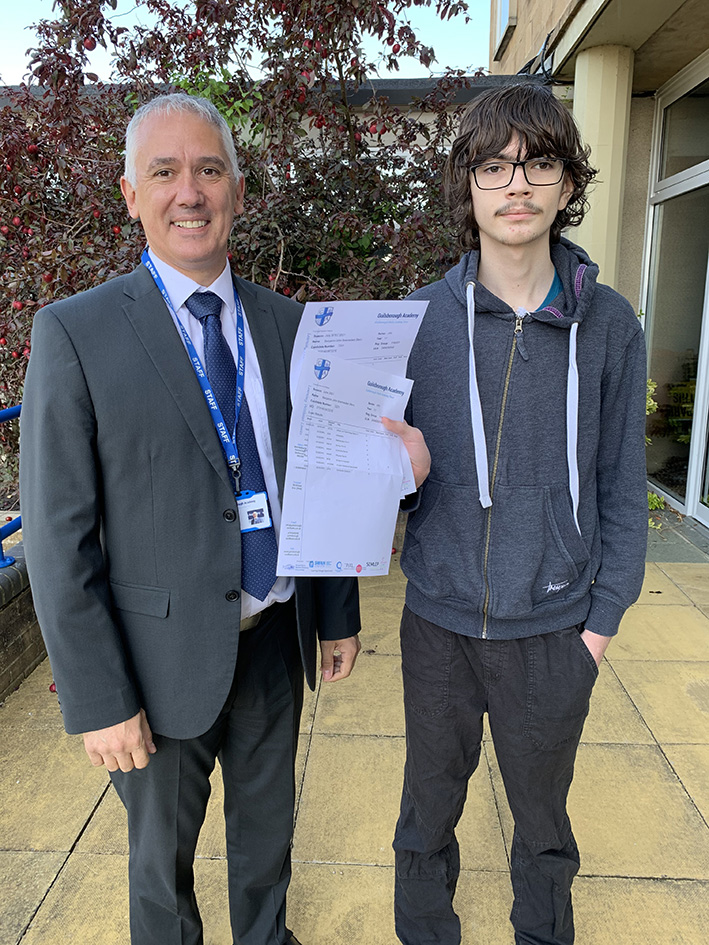 "It has been fantastic to be able to welcome students into school to collect their results today and share in this occasion following an incredibly turbulent 18 months. This year, like no other, has presented a number of challenges for staff and students alike. We are incredibly proud of the mature and responsible way our students have adapted to the ever-changing situation, demonstrating a level of emotional resilience which will stand them all in good stead for the future. This year is testament to the fact that school is not only about academic achievement, but also about supporting students to develop skills which will empower them to succeed in the future. Never before has it been so evident to students that they are part of a global community, as a body of staff, it will be fantastic to hear about the positive contribution to society these students will make over the coming years. I am extremely proud of what our students have achieved. After what has been an incredibly difficult year for everyone, the resilience they have shown has been amazing. All the hard work and effort they have put in has been worth it and these results are a credit to themselves, their families and our academy."
Mr Woolridge, Head of Year 11 2020-2021
Department for Education Performance Tables
An overview of school performance can be found on the Department for Education's Performance Tables website here.