Results and Achievements
Each year we celebrate the wonderful achievements of our students at A level and GCSE.
2022 Results and Achievements
A-Level Results
Staff, students and parents/carers at Guilsborough Academy celebrated good A-level results in 2022.
60% of grades awarded were A*/B
Pass rate 99%
Average grade: B
These results meant many of our students secured places at their first choice university as well as meaningful gap years and apprenticeship opportunities.
76% Higher Education
20% of University places are Russell Group Universities.
2 Oxford offers
10% gap year (some deferred University place for next year)
Apprenticeships and employment:
2% Higher Degree Apprenticeship
4% Securing Apprenticeship
1% Employment
Other seeking employment/apprenticeships or considering alternatives: 7%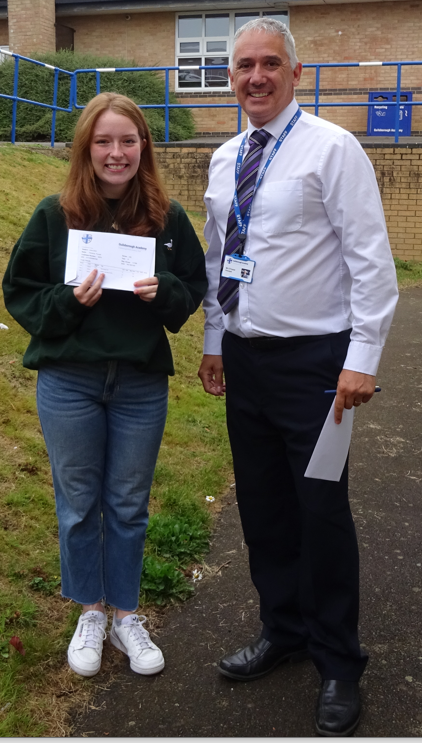 Congratulations to all of our Sixth Form students in achieving great A level results. Over the last two years you have worked extremely hard and fully deserve your successes. We are proud of all of our students with many of you securing some high-quality courses, employment and apprenticeship opportunities at post 18 and we wish you every success for the future. Thank you to staff, parents/carers for your continued support over the years. You all should be very proud.

Simon Frazer, Principal, stated, "our students deserve the excellent results they have achieved. Supported by our amazing staff, they have shown real determination and ambition. Our Sixth Form is really popular and we are looking forward to continuing our tradition of delivering high attainment alongside opportunities to explore the Arts and other extra-curricular activities".
GCSE Results
We also celebrated yet another strong set of GCSE results in 2022
79.4% of our students secured at least a grade 4 in Mathematics (compared to 69.5% nationally)
70.2% of our students secured at least a grade 4 in English)
67% achieving a grade 4 or above in English and maths at the end of key stage 4
36.5% achieving the English Baccalaureate
Results
Progress 8 score -0.09
Attainment 8 score:48.02
Percentage of pupils who have achieved a strong pass in English and mathematics. (A 'strong pass' refers to a grade 5 or above): 43%
Percentage of pupils entering for the English Baccalaureate: 46.1%
Percentage of pupils achieving the English Baccalaureate: (5+ 24%)
Ebacc average point score: 4.29
Percentage of pupils staying in education or employment after KS4 (destinations): 96%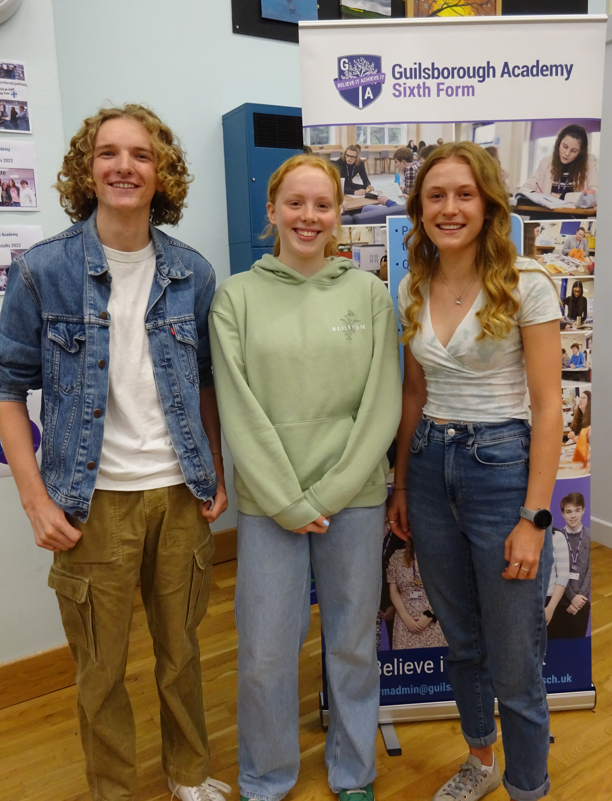 Today is about the personal stories and it is an opportunity to reflect on the challenges which so many have encountered and overcome. Their resilience has shone through.

I wish to thank everyone who played a vital role is supporting our students over the past two years. All the staff wish each and every student the very best for their future. We look forward to welcoming back a large number who will be remaining at Guilsborough to study for their A Levels and Level 3 BTEC qualifications.
Department for Education Performance Tables
An overview of school performance can be found on the Department for Education's Performance Tables website here.