History
Our greatest glory is not in never falling, but in rising every time we fall.
Confucius
As a department we want all students to see the society's 'falls' but also 'rising' moments. This idea is also applied to individual students in lessons – challenge and adversity should be a learning process and all are encouraged to learn from mistakes.
Our Curriculum
History is weaved into our KS3 throughout year 7 to 9. In these early years the content changes from Medieval through to Modern but the core skills will remain the same. These skills are then transferred to GCSE and A level where History is studied as a discreet subject.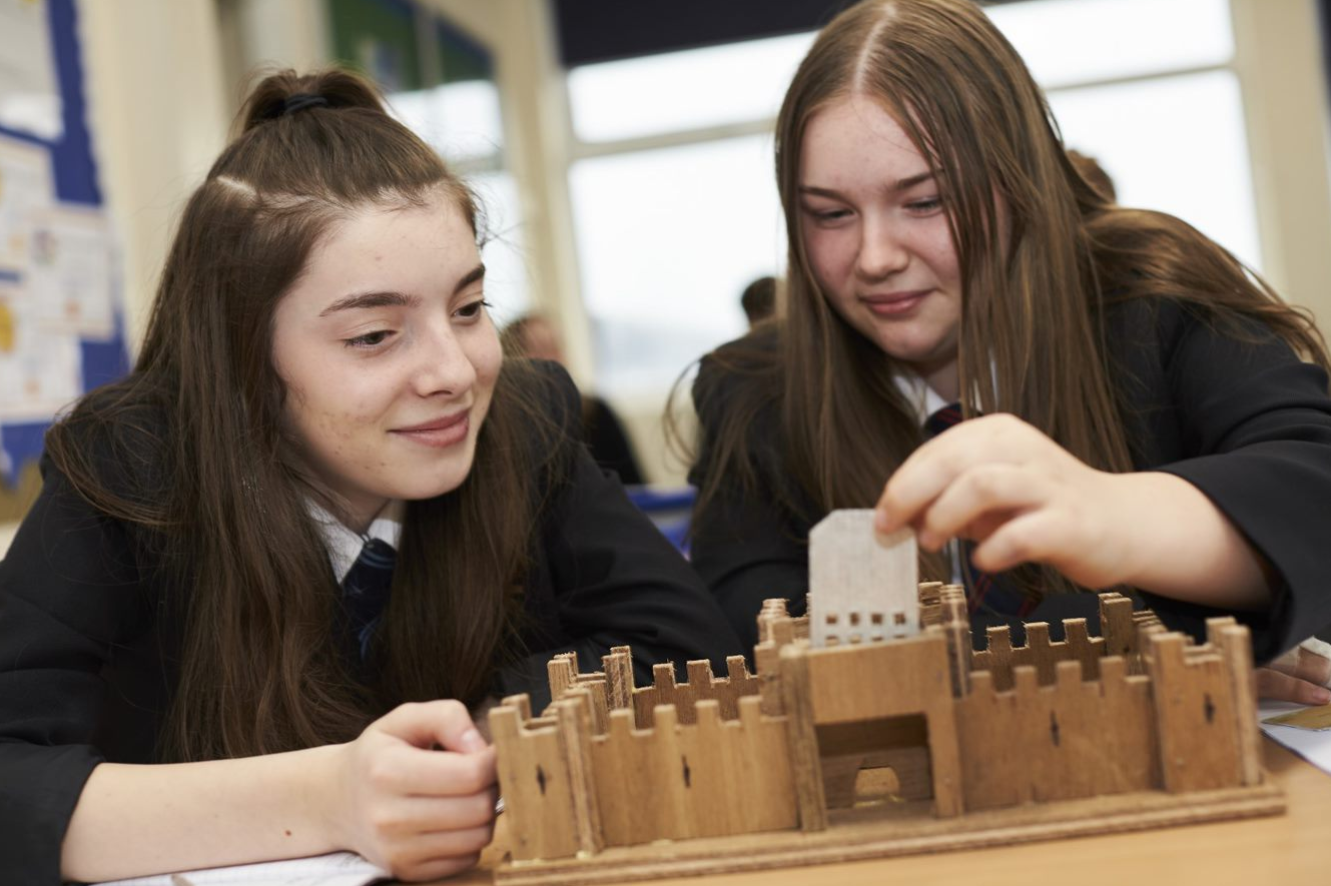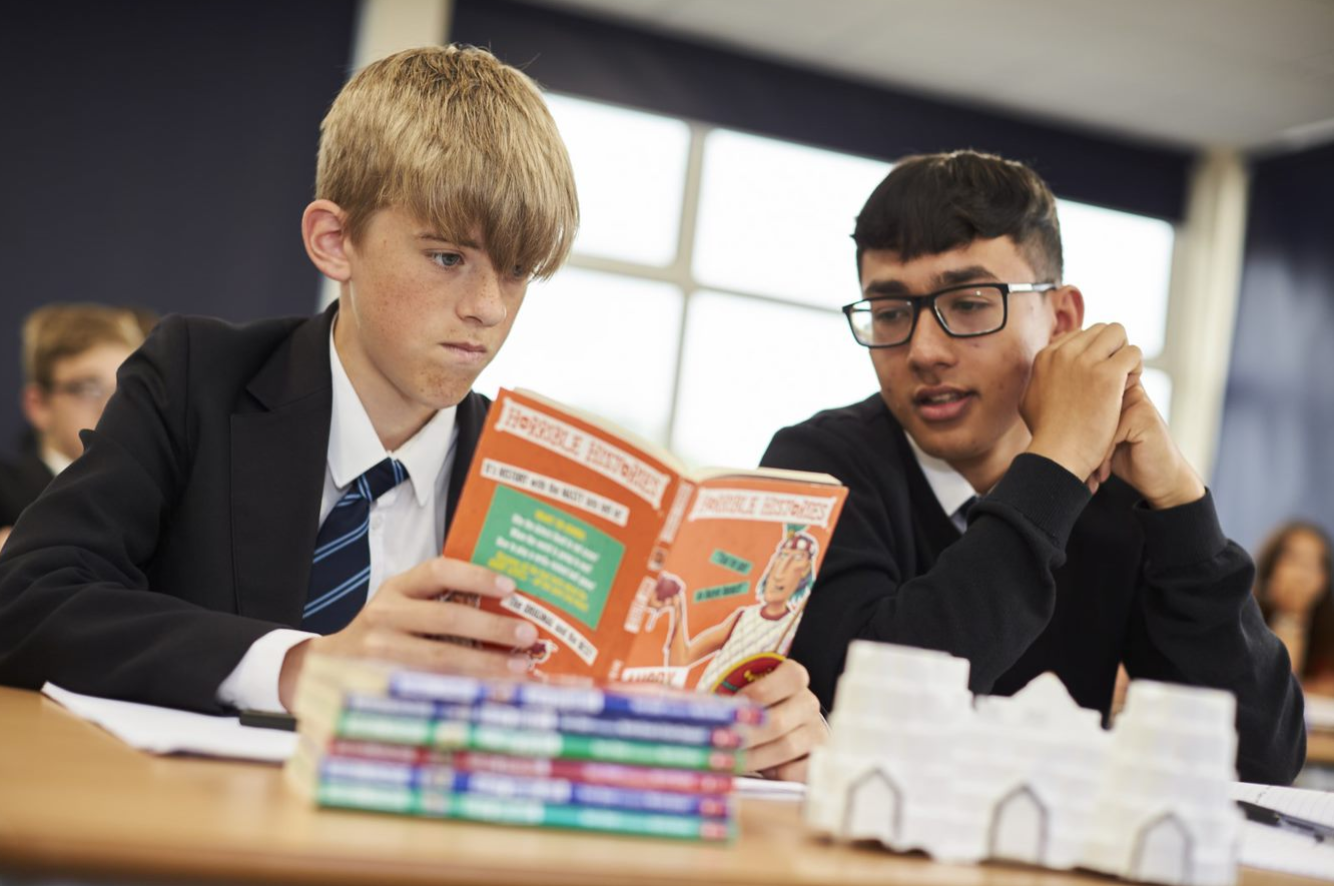 Our History curriculum journey shows how we develop the skills of our students and the topics the students cover in each year. Click on our learning journey below to view it in more detail.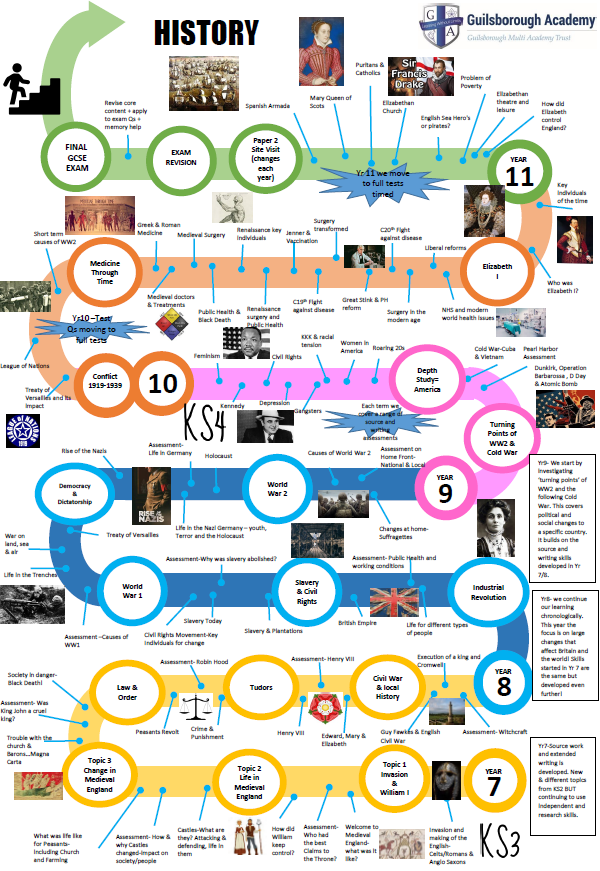 What is History like at Guilsborough?
Please watch our short video to see what studying History at Guilsborough is like.
The most engaging subject for me is history, as it allows for interesting debates and analysis of pivotal historical moments.
History is a very important subject, as it means you can have a deeper understanding of the world you live in.
The history teachers at Guilsborough add so much to the already very enjoyable subject, as they promote your own thinking and provide so much support.
Where will History take me past Year 11?
SIXTH FORM
If you choose to continue your study of History after GCSE you will be using all the skills that have been developed since year 7. Find out more about A level History here.History as a discipline develops the core skills that can be applied to most careers later in life. Organisation and deployment of arguments is fundamental to the subject and lends itself to University level courses. You will experience new topics and get to investigate a controversial period of History on your own!
CAREERS
After Sixth Form you will have many choices in front of you about the next stage of your life. With History you have transferable skills that will best prepare you for that next step. Some careers that use History directly would be:
Civil Servant (working for Government)
Journalism
Academic researcher
Archaeologist
Solicitor/Lawyer
Event Planner
Police/Armed forces
Useful resources to support learning in History
These resources are useful for students to help consolidate knowledge learnt in lessons and to aid revision ;
KS3 BBC Bitesize
In year 7 we study the Medieval period and this website has a range of accessible information and videos. Explore by clicking here.
In the second half of Year 7 we move forward into the Tudors and Stuarts.
Explore by clicking here.
In year 8 we look at the Industrial Revolution and move onto World War1.
Explore by clicking here.
The BBC Teach website which has series of lesson videos to help explain events and the impact they had. Explore by clicking here.
If students then like a challenge and want to test their knowledge then this site has a range of accessible quizzes.
Explore by clicking here