Drama
At Guilsborough Academy, we encourage our Drama students to focus and work on developing their imagination and creativity. These two aspects are fundamental in order to create theatre that is both exciting and yet also challenges existing perceptions and views in the wider world. The imagination is vital in allowing growth and expansion on both a personal and academic level.
Our Curriculum
Our Drama curriculum allows all students to find what they can do. It facilitates risk taking by self and with others. We hope that students learn to understand that striving to be the best may involve some failure. In this failure lies very important learning – a journey for self and for self with others. This is fundamental to working with others. We engender trust and cooperation with others. It is fundamental to success and allows us to achieve mutual respect with adults and with other learners. We always ask for the best that you can do and sometimes what you can do is surprising even to yourself.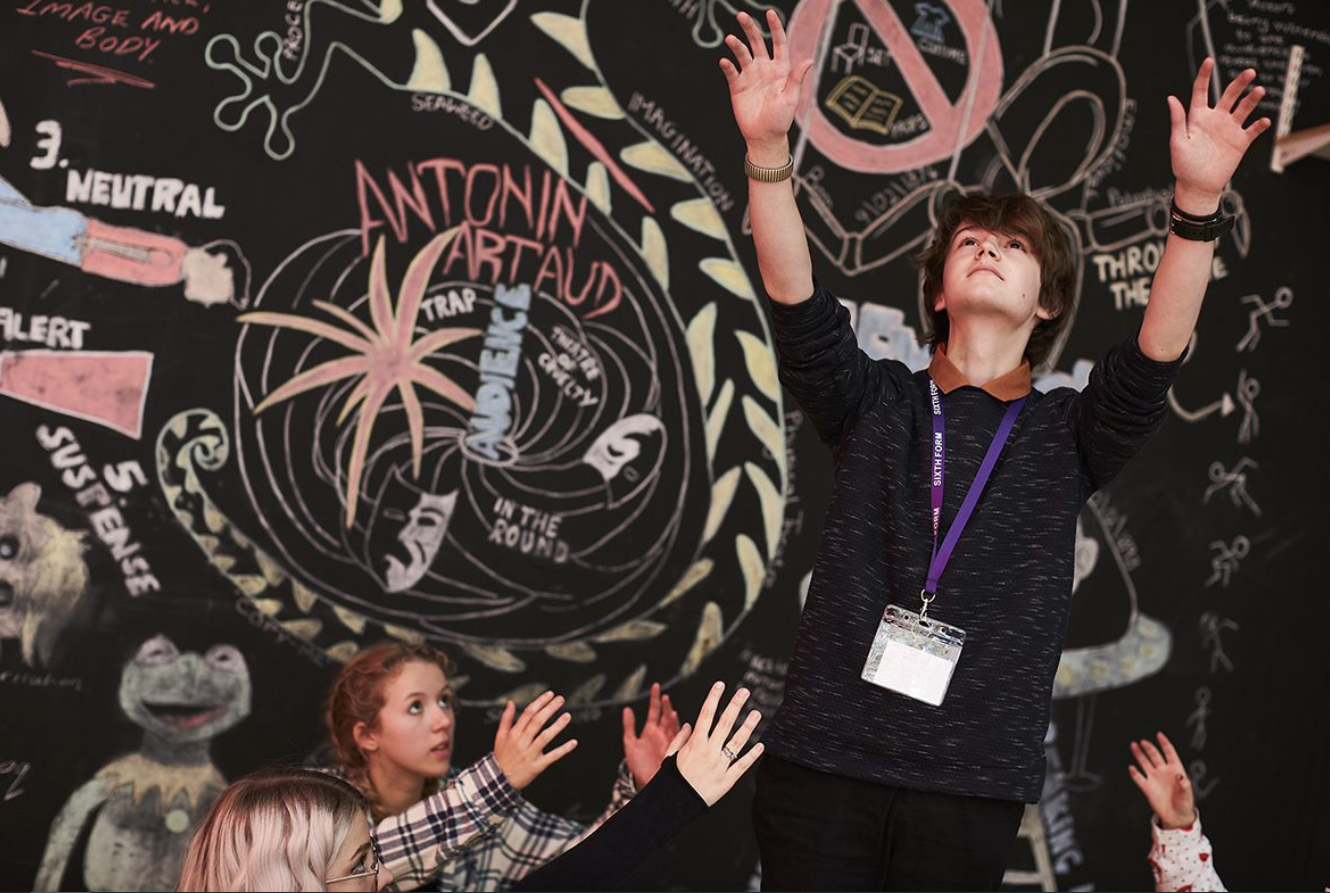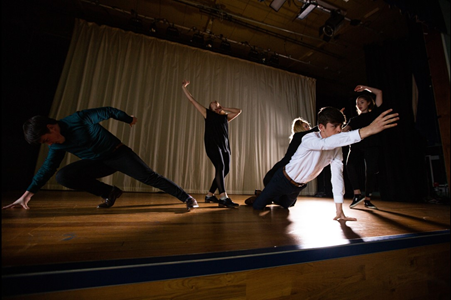 "All the world's a stage, and all the men and women merely players: they have their exits and their entrances; and one man in his time plays many parts, his acts being seven ages".
This famous line from William Shakespeare's play "As You Like It," reflects on the stages of human life and how people play various roles as they age. In this metaphorical speech, Shakespeare is suggesting that life itself is like a theatrical performance. The phrase "All the world's a stage" is often interpreted as a commentary on the transitory and performative nature of human existence. It suggests that we all have our moments and roles to play in life, and these roles are not permanent but rather fleeting.
As a Drama Teachers, we too have roles to play in helping our students achieve their creative and expressive potential as they transition through school, and we strive to nurture artistic, personal, and educational development through promoting and encouraging the following:
Artistic Expression: Encouraging students to explore and express themselves creatively through various theatrical forms, including acting, writing, directing, and designing.
Performance Skills: Developing the skills necessary for effective stage performance, such as acting techniques, voice projection, movement, and improvisation.
Creativity and Imagination: Cultivating students' imagination and creativity, helping them to think outside the box and come up with innovative ideas for drama and theatre.
Collaboration: Teaching students the importance of teamwork and collaboration as well as providing opportunities for them to work together.
Cultural Awareness: Exploring different theatrical traditions, styles, and cultural perspectives to promote a broader understanding of the world and its diverse cultures.
Literary Analysis: Analysing and interpreting dramatic texts, including plays and scripts, to deepen students' understanding of storytelling, character development, and themes.
Communication Skills: Enhancing students' verbal and non-verbal communication skills, which can be valuable in both theatre and everyday life.
Confidence and Self-Esteem: Building students' self-confidence and self-esteem through public speaking and performance experiences.
Critical Thinking: Encouraging students to think critically about the choices made in theatre production, including staging, lighting, costumes, and casting.
Audience Awareness: Teaching students how to engage and connect with an audience, whether through acting, directing, or other aspects of production.
Historical and Cultural Context: Providing historical and cultural context for theatrical works, helping students understand how theatre reflects and shapes societies.
Ethical and Moral Exploration: Examining ethical and moral dilemmas presented in dramatic works, encouraging thoughtful reflection and discussion.
Technical Proficiency: Developing technical skills related to theatre production, such as lighting, sound, set design, and costume design.
Problem-Solving: Cultivating problem-solving skills as students work through challenges and obstacles that arise during the production process.
Career Preparation: Preparing students for careers in the theatre and related fields, including acting, directing, playwriting, stage management, and technical theatre.
"I regard the theatre as the greatest of all art forms, the most immediate way in which a human being can share with another the sense of what it is to be a human being." Oscar Wilde
Our Drama curriculum journey shows how we develop the skills of our students and the topics the students cover in each year. Click on our learning journey below to view it in more detail.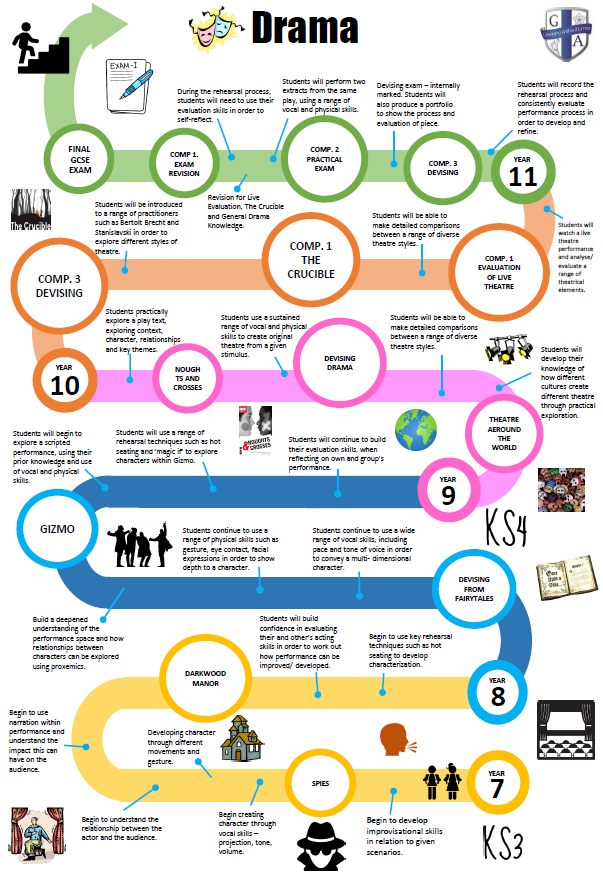 What is Drama like at Guilsborough?
Please watch our short video to see what studying Drama at Guilsborough is like.
Drama allows me to express myself in a way that allows me to understand how to focus my energy.
Emily, Year 8 Student
Drama gives me a chance to listen and work with others in order to invent something that is exciting for an audience.
Daniel, Year 7 Student
Drama is always really fun, but it also teaches me about the world outside of the classroom.
Sam, Year 8 Student
Where will Drama take me past Year 11?
SIXTH FORM
If you enjoy studying Drama you may wish to chose to study A level Drama. You will devise a piece of theatre from an extract of a play and create a brand new piece of theatre. You will perform these and will also perform a monologue or duologue, and have a written examination.
CAREERS
When you enter the world of work, whether after Year 11, sixth form or university, you will find that Drama is used in many careers such as:
Acting career in Stage/ TV/ Film
Directing and Casting Roles
Theatre Designer: costume, lighting, sound, stage
Drama Therapist
Advertising and marketing
Public Speaker
Useful resources to support learning in Drama
These resources are useful for students to help consolidate knowledge learnt in lessons and to aid revision ;
BBC Bitesize KS3
This is a great website created by BBC Bitesize. This resource includes revision activities based around the key acting skills and terminology that students will cover in both their theory and practical KS3 Drama work.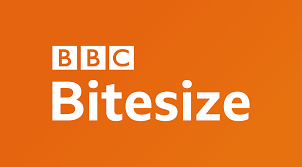 Explore BBC Bitesize by clicking here.
BBC Bitesize KS4
This is a brilliant revision resource by BBC Bitesize for GCSE AQA Drama. It covers all theory components of the coursework and written paper, as well as further knowledge of acting skills that can be used within practical units of work.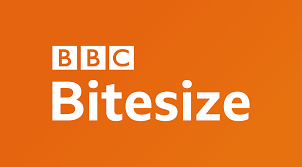 Explore BBC Bitesize by clicking here.
WhatsOnStage
This is a brilliant platform for KS3 Drama students in order to familiarise themselves with a range of different theatre and acting styles through free online performances.

Explore WhatsOnStage by clicking here.